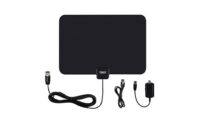 I'd like to help you save money by canceling cable TV and replacing it with free and cheap alternatives. It's called "cord cutting" and the techniques I present in this site are completely legal!
The average cable customer spends $100 a month on cable. That's $1,200 per year for the rest of your life or about $60,000 in your lifetime! Why pay when you can watch many of the same shows for much less or free?
The solution to the ridiculous cost of cable and satellite TV is to switch to a FREE broadcast digital TV using an antenna like one of the ones below. If you live near or in a decent-sized metropolitan area, this can get you the network channels (ABC, CBS, NBS, Fox, WB) plus PBS and local stations with an inexpensive indoor antenna.
If you have an Internet connect...
Read More