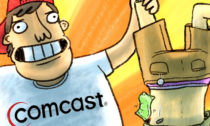 As streaming video continues to chip away at cable TV subscriber numbers, Comcast is making some of its Internet speed increases available only to customers that pay for both Internet and video service.
Last week, Comcast announced speed increases for customers in Houston and the Oregon/SW Washington areas. The announcement headlines were "Comcast increases Internet speeds for some video customers."
Customers with 60Mbps Internet download speeds are being upped to 150Mbps; 150Mbps subscribers are going to 250Mbps; and 250Mbps subscribers are getting a raise to 400Mbps or 1Gbps.
Comcast says speed increases will kick in automatically without raising the customers' monthly bills—but only if they subscribe to certain bundles that include both Internet and TV service.
"Cord cut...
Read More